WE BUILD THE FINEST MOST EFFECTIVE PROBES AVAILABLE !
THE PROBE
          One of the most effective ways to know what lies beneath the surface of the ground is with the use of a probe. I started making them for diggers over 50 years ago. Having used many myself  & making 1000s through the years, the best design & what materials to use became apparent. Our probes are not only desgined  for bottle & relic hunting  but their also extremely effective in locating any buried objects.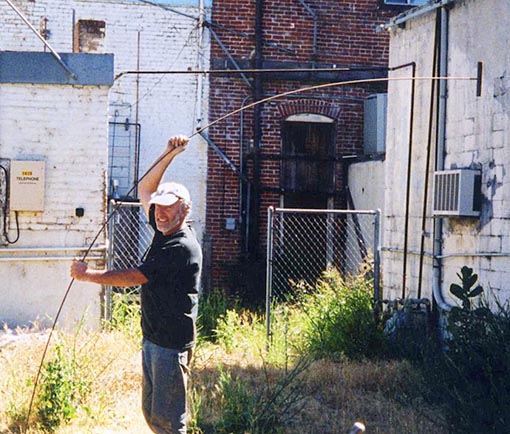 With a little practice anyone can learn to use one in no time at all.
HOW OURS ARE DIFFERENT
Probes most often seen have  pointed tips & are not of spring steel. Those are fine for occisional light gereral use but they do not server the privy digger or relic hunter well. Our unique design allows for a soil sample at any depth in addition to being made of ruggid spring steel.
The spring material allows it when bent to bounce back perfectly straight!
It's important to not only feel with a probe but also see what the soil color at all levels. Almost always a disturbed area will look & probe differen than that of undisturbed native soil. In trash deposits, you'll often see: ash, brick, charcoal, rust, glass and even egg shells on the probe sample. Experienced diggers look for and call this "color" when a non native sample is pulled back and seen on the tip. Layers containing trash deposits often don't start until out of the probe reach. When that's the case only the color and feel of the disturbed soil could be indicating a potential dig spot.
Some of the best bottles I've dug came from pits that probed like nothing by feel but the color was there.
The sample on the very end is what you want to read & never on the back side of tip. This is impossible to do with a pointed tip since there's just not enough surface area on the very end. A pointed tapered tip grabs dirt only on the back side when probe is removed.  So the "color" your seeing is collected all along the path the probe is pulled from. There's just no way to get an accurate "color" reading with a pointed tip.
Our tip design collects a small amount at the total depth rod is pushed. You can accurately read "color"in layers while visually seeing the difference. Our tips produce less resistance with greater sensibility to accurately feel soil consistancy changes. 
The photo shows a sample pulled from 4ft. deep on the very tip. 
Back side of tip is darker top soil gathered just before tool was removed from ground.
Notice how the back side of tip is an entirely different color!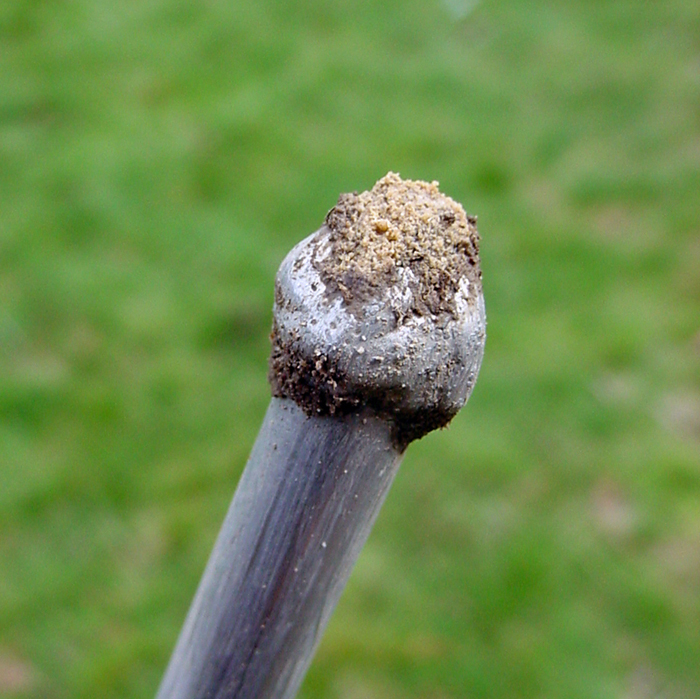 We manufacture our probes using a techecnally advanced high quality spring steel. Our one continuous piece construction is available in lengths up to seven feet. The memory is so good that a twenty foot section bent in a circle will bounce back straight as an arrow. Try that with any other probe material. 
They are designed to amplify sound that is transmitted from the tip to the handle making objects easier to identify. They resonate very well and sing like a tuning fork.
Our probes have been featured in "American Digger" a national treasure hunting magazine.
Made with a technically advanced metal that's superior in rigidity and retention than any kind of steel. It allows our diameter to be smaller thus making them much easier to use. This makes a big difference with multiple advantages besides making them more effective:
Penetrates easier leaving a smaller hole

Less fatigue




More easily used to greater depths

Longer life

Greater sensitivity

Cover more area in less time

Lighter weight
Higher sucess rate

 Welded one piece construction with a long lasting carbide tip that will out last a steel tip 100-1. The carbon tips are designed for extra long life and sampling soil from as deep as the probe is pushed.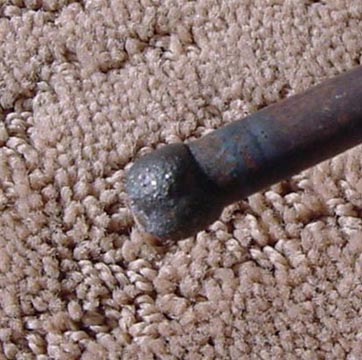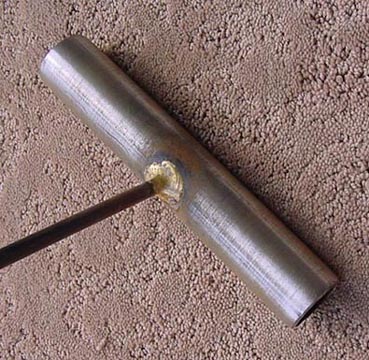 Our probes penetrate easy and are extremely
 effective. F
or general use we recommend four or five foot which are the most popular. Expierenced diggers know the importannce of longer probes to "follow-up" a shorter rod so we offer lengths up to seven feet. "
Following-up" allows you go deeper to gauage depth and sample soil.
A 4ft & 6ft are a great combination.