"CALIFORNIA CLUB HOUSE / PURE BOURBON / IMPORTED ONLY BY / JNO. C. MORRISON, JR. / 316 SAC. ST. S.F."  circa 1872-74.
This highly prized rare 5th is considered by many to be the top Western whiskey. They come in shades of amber, olive and two known that are pure green. Less than 10 known.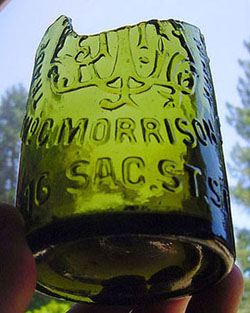 "CASSIN,S / GRAPE BRANDY / BITTERS" circa 1866-68
 Perhaps the most attractive and desirable of all the Western bitters are the Cassin's. Blown at the San Francisco Glass Works in the 1860s, this unique shaped bottle comes in a wide variety of colors including: aqua, amber, black glass, various shades of green and olive amber. The rich blue aqua as seen here and black glass are the rarest colors. Few of these have survived the years due to their  fragile corners and odd shape. The earliest and rarest variant produced in 1866  had very fragile corners so the mold was re-designed in 1867  to try and strengthen the bottle. It's interesting to note that a mint green example was found inside an old piano that originated from San Francisco.  There are less than 20 intact examples known to exist in any condition.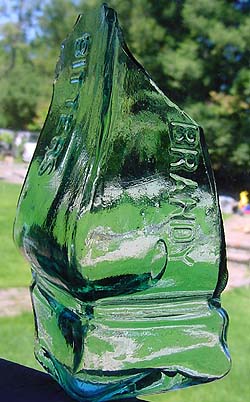 "NAPA SODA" circa 1860. 
An extremely rare Napa soda in a deep reddish puce color.  This one was recovered form Embarcadero Center Four in San Francisco. It was found in the bay fill about twenty feet below street level next to an old wooden pier piling. There are no known intact examples of this bottle.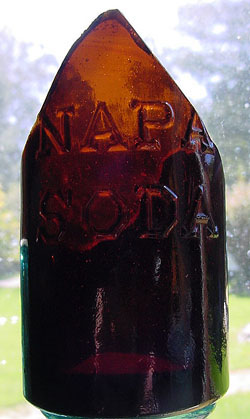 "A.P. BRAYTON & CO. / SAN FRANCISCO CAL." circa 1863-64. 
 An extremely rare Western canning jar is the A.P. Brayton with less than eight known in any condition. They come in  pint, quart and half gallon sizes, some are iron pontiled. Blown by the San Francisco Glass Works, it was one of the earliest jars they made. Brayton was in the cast iron business and it's  likely he made the closures for these jars too. People have theorized what the closures for these jars looked like but this heavy cast iron lugged ring was dug with the jar. There were two of these busted in the pit this half gallon shard was recovered from.