THE DIG ZONE 
Since childhood I've had a fascination of old things and the history associated with them. I'll never forget my first real bottle dig in 1966, I was only twelve. Dad had a

 friend who owned an old farm where we went and discovered a huge dump. We dug there for over a month and uncovered dozens of 19th century bottles, from then on I was hooked. Six years later I went on to study archeology in college and later on became involved in many organized digs. One of my favorites was during the excavation phase of "Embarcadero Center Four" in San Francisco where we uncovered Gold Rush era ships buried thirty feet below street level along with hundreds of 1850s bottles and artifacts.
Since 1975 I've been in the building construction business and have gained an extensive knowledge of soils and underground construction. I've been a member of the "North Western Bottle Collectors Association" for over 40 years, serving three consecutive terms as president. In addition I've been involved with local museums and have served on a board of directors. In the early 1990s I volunteered countless hours to help completely renovate a large old building for the "Tomales Regional History Center" in Marin County. There I was a member of the building renovation committee, serving as a construction/project advisor and carpenter. We've helped organize and create several local history related displays in Napa & Sonoma County for museums, schools and businesses. Over the years we've donated numerous items of historical intrest to our local museums helping to preserve our past. We do a fascinating hands on early California history presentation for grade schools and other organizations. I feel extremely fortunate to have discovered such a wonderful interest so early on in  life.  We definitly have a passion for digging into the past .
Our 
projects mean a lot more to us than just digging a hole for bottles. Every
dig offers a unique glimpse 
into the past lives of the people in relation to the site they once occupied. We dig only on private property and always with permission. We never randomly dig and use precise methods and tools to locate areas of interest  We love sharing or finds and information with property owners and offer free site inspections for those who are interested in knowing more about the history of their property.
In addition to safety, leaving a site in as good or better condition than found is always high priority for us. Ethics build character, we always try and do the best possible job on all levels

.

Besides the many labor intensive hours that go into a dig, we enjoy spending a considerable amount of time
researching a properties history which ties it all together
. Many days are spent with no results as far as bottles go but that's not always what it's about for us. It's about a genuine love of early California history, old bottle glass, preservation and the association with our historic past.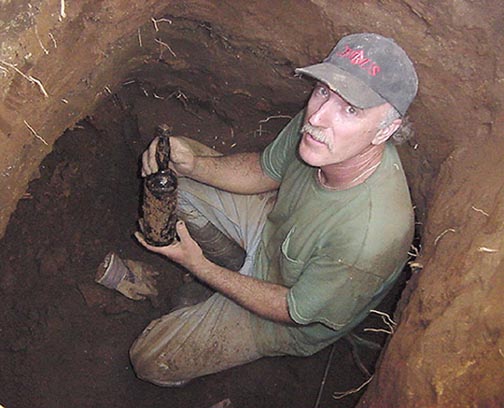 The following stories are a few of our more interesting digs with some pictures depicting deep underground excavations. Anything deeper than waist depth can be extremely dangerous if you don't know what your doing. Under no circumstances should anyone ever attempt such an endeavor who is not highly experienced in such excavations, underground safety and soils. If your going to dig; Always have permission, be respectful of your finds and leave the site just as you found it.