WESTERN U.S. BOTTLE SHOWS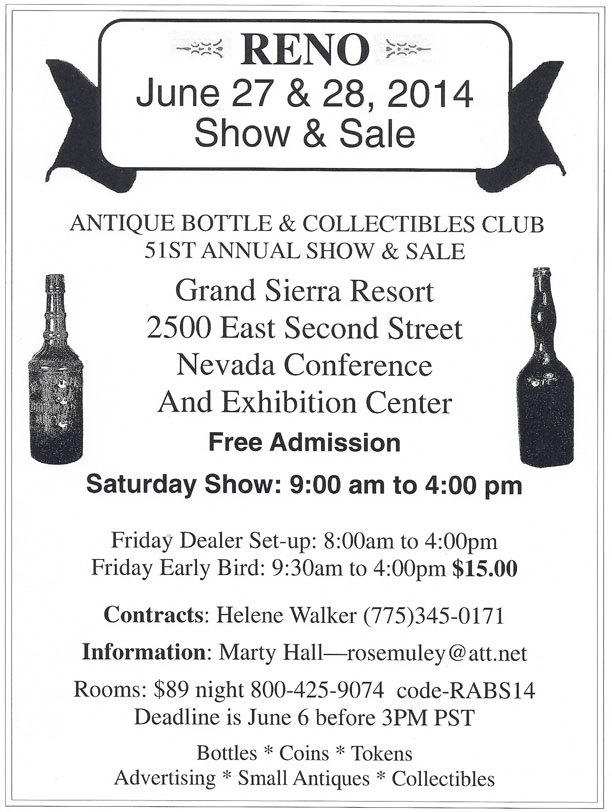 27 & 28 June 2014 (Friday & Saturday) Reno, Nevada – Reno Antique Bottle & Collectibles Club 51st Annual Show & Sale at the Grand Sierra Resort, 2500 East Second Street, Nevada Conference and Exposition Center, Free Admission, Saturday Show: 9:00 am to 4:00 pm, Friday Dealer set-up: 8:00 am to 4:00 pm, Friday Early Bird: 9:30 am to 4:00 pm – $15, Contracts: Helene Walker, 775.345.0171, Information: Marty Hall, rosemuley@att.net,
12 July 2014 (Saturday) Leadville, Colorado – Antique Bottle Collectors of Colorado Show and Sale, 40+ Years, 10th Annual Show in Leadville, Colorado, National Mining Hall of Fame and Museum Convention Center, 114 10th Street, Leadville, Colorado 80461, One Day Show, Saturday 9:00 am to 4:00 pm, No Early Admission except for Displayers and Dealers. Set-Up: Saturday, 6:00 am. Admission: $3, Antique Bottle Collectors Of Colorado Inc., www.Antiquebottlecollectorsofcolorado.com, Contact: Jim and Barb Sundquist, Co-Chairs: ABCC Leadville Show 2014, Evergreen, Colorado 80439, 303.674.4658, Barbsund@msn.com 
13 September 2014 (Saturday) Downieville, California – Downieville Bottle Show, Friday September 12th, 5:00 pm Dealer BBQ and Wine Tasting Event, Saturday, September 13th, Dealer set-up 7:00 am to 8:00 am, early lookers 8:00 am to 10:00 am, Free admission 10:00 am to 3:00 pm. There is a car show in Sierra City the same weekend as the bottle show and the motels are going to fill up really fast. If you are planning on staying  in the area we would recommend you get your motel reservations in early.
13 September 2014 (Saturday) Salt Lake City, Utah – Utah Antique Bottle and Collectibles Show and Sale, 9:00 am to 1:00 pm, Early buyers 8:00 am at the Redwood Multipurpose Center, 3100 South Redwood Road, Salt Lake City, Utah, For information contact Bob Campbell 801.467.8636, 1123 E. 2100 S, Salt Lake City, Utah 84106 or Rick Holt, e-mail: rckholt@netscape.net
20 September 2014 (Saturday) Santa Ana, California - 48th Annual Los Angeles Historical Bottle Club Antique Bottle, Fruit Jar, Antiques & Collectibles Show & Sale at the Santa Ana Elks Lodge, 212 Elk Lane, Santa Ana, California 92701, Saturday, 9:00 am to 3:00 pm, Early Bird: 8:00 am, Set-up at 6:00 am,  Early bird cost $10, Los Angeles Historical Bottle Club, Contact: Don Wippert or Dick Homme, Don 818.346.9833 or Dick 818.362.3368, Los Angeles Historical Bottle Club
06 December 2014 (Saturday) Roseville, California - 49er Historical Bottle Associations 37th Annual "Best of the West" Historic Bottle & Glass Show at the Placer County Fairgrounds, 800 All America City Boulevard, Roseville, California, Saturday, December 6th, 9:00 am – 3:00 pm, Free Admission, $10 Earlybird Admission on Friday, Set-up Friday, December 5th, noon – 6:00 pm, Sunday, 9:00 am – 2:00 pm, Contact: Mike McKillop, 916.367.1829, pville1871@yahoo.com FOHBC Member Club
30 & 31May2015 (Saturday& Sunday) Santa Rosa, California – 49th annual "Northwestern Bottle Collectors Association" Show and Sale at the Veterans Memorial Hall. This year's show is again going to be better than ever for both dealers & shoppers. There will be two other well attended events going on at the same time, the "Famers Market" on Saturday and "Collectors Flea Market" on Sunday all at the same location. Dealer Get-Together  Saturday night at the "Union Hotel" for all show dealers! SHOW HOURS: Saturday: 10:00 a.m to 4:00 pm,  Sunday 9:00 a.m. to 3:00 p.m. Genearl admission $3. Show Chairman: (707)823-8845, e-mail: blumoon2@comcast.net  or  CLICK HERE FOR MORE DETAILS.